It is our mission to quickly and courteously provide you with the best products and services in our industry at competitive pricing.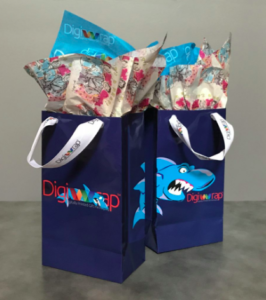 Where is your product made?
We're proud to say it's made in the USA! We make all of our products in our facility just outside of Chicago, IL. We print on tissue manufactured in Rochester, NY. Our bag materials are sourced from mills and converters in Ohio, New Jersey, and North Carolina.
What's special about your product?
So many things! One of the best is that there are no minimums. You can produce the exact amount you need. Whether you need just one bag or exactly 169 sheets of tissue, you can get precisely what you want with no waste. Moreover, each bag or sheet of tissue can be unique. Put a different image, name or saying on each and every product to make it special and personalized to the recipient. Our high-quality bags make them gifts in and of themselves, and our tissue is so beautiful it can be used for projects like decoupage, scrapbooking, or packing away memories. Our items become keepsakes instead of just packaging that adds to the waste stream.
How sustainable are your products?
Our tissue is made from 100% recycled post-industrial raw material by a mill that uses renewable hydroelectric power. Our bags use FSC certified recycled content paper, and recyclable polypropylene handles. We're also introducing our new HDPE euro-tote bag which can be completely recycled.
Where have I heard the Name Digiwrap?
If you are thinking that the name Digiwrap sounds familiar you might have watched the episode of Shark Tank where we made our big pitch! Want to know more? Here are some of the blog stories we wrote to tell you a little more about our appearance on the show.