We Now Offer Digitally Printed Labels of Various Sizes and Shapes - 30% Off Your Entire Purchase

Try us! Buy digitally printed customized labels for yourself or your business today, and take 30% off of your entire purchase.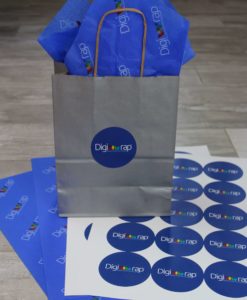 At Digiwrap, we are experts in digitally printing customized art on just about anything from tissue paper to bags. Now we've applied this same expertise to digitally printing labels of various sizes and shapes. So now, you can have us print your artwork directly on a bag — OR — you can purchase plain bags from us and have us print labels for you to apply to the bags. Of course, you can also just print labels. It's all up to you.