How to Create Tissue Paper Flowers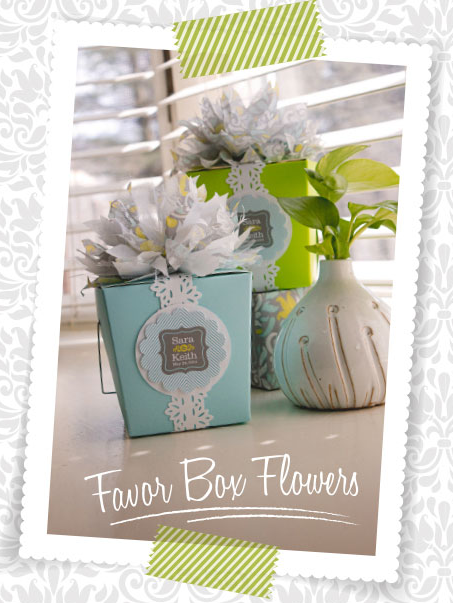 Spring has sprung, and soon we should start to see flowers popping up everywhere! So we've decided to give instructions on how to make tissue paper flowers — it is the kind of project that looks incredibly fancy and like it must take tons of time, but that you will be able to pull off effortlessly! Use your tissue paper flowers to top favor boxes, gifts, or to compliment your next party's decor.
1. Gather supplies. You will need: Scissors, wire, tule, and tissue paper. If you are placing these on favor boxes, you will also need a hot glue gun. (Order custom tissue paper for the perfect compliment to your party theme. If you are creating these for a wedding or shower, consider our customizable wedding fleur design, which allows the couple's name, date, and colors of your choice to match the wedding.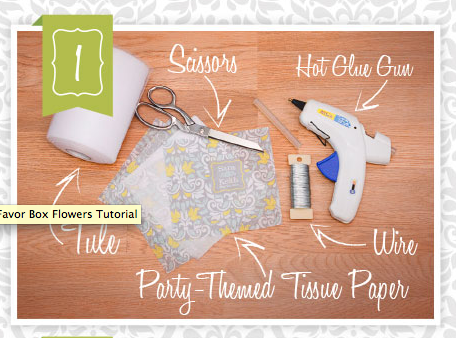 2. Trim and fold!
a. Cut the tissue paper and tule into 6″ squares. Layer them together.
b. Accordian fold the layered paper and tule.
c. Wrap wire around the center.
d. Trim to round the edges.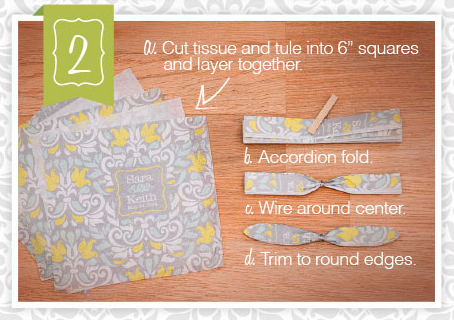 3. Fan out the flower. Fan out the accordion fold and carefully peel the layers apart, starting at the edge of the top layer. If this is for a favor box, add goodies, embellish the outside of the box, and hot glue the flower on top!

Get your project started today by ordering your tissue paper! Digiwrap has over 75 options of solid-colored tissue paper, including multiple shades of every color of the rainbow plus more! Or upload a custom design or try our wedding fleur for the perfect personalized wedding tissue paper.