Maker Demo: Thoughtful Packaging Adds Valuable Connection with Customer
Joel Cherrico of Cherrico Pottery has a passion for his product. This becomes immediately clear from his website and social feed. Just a glance through all the photos of mugs, jars, and vases and you can see—the gorgeous pottery tells its own story of beauty. But the story doesn't end there.
Recently Joel posted a live video of a late-night packaging session in his office. In just the 15-minute process of walking his fans through getting two mugs out to ship, his passion for his work becomes clear. You can see he's taken great care of how the customer will receive his work. The details he's added to what goes into each box add up to what we'd call a big hug from him to his customers.
"Most people who buy this pottery want to connect with the artist somehow, so just a simple note on every one…I know it seems like it takes a long time, but if they're going to take the time to support your work and buy it, this seems like an easy thing to do," says Joel.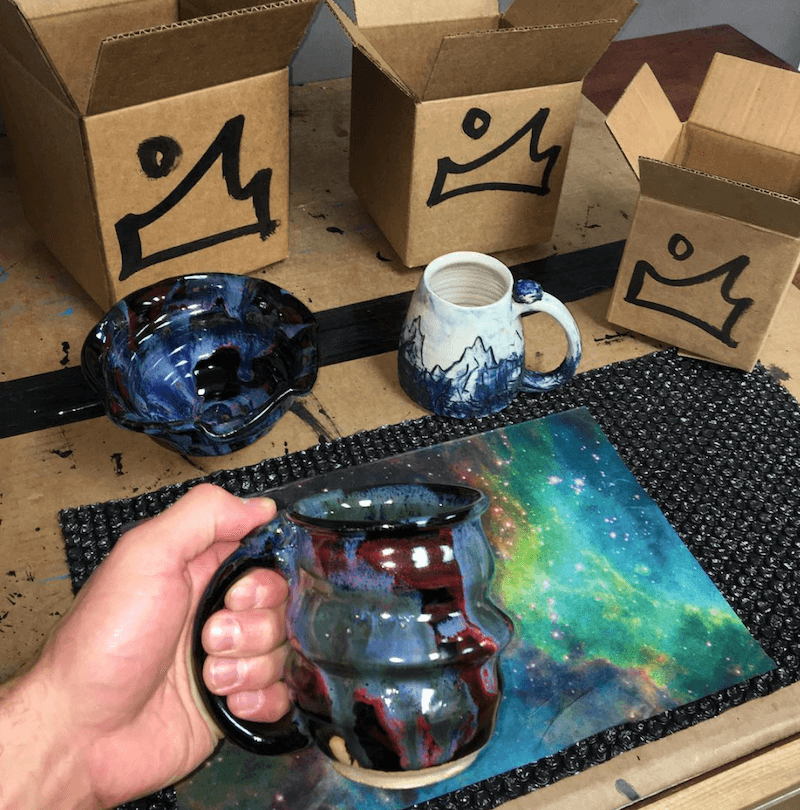 His packaging includes information about his Guinness Record for "Most pots thrown in one hour by an individual," biodegradable peanuts and a clear explanation for why he uses them, a handwritten and individually addressed message if he has time to include it, a box with his logo hand-painted, and our favorite piece—a sheet of custom printed tissue paper to enhance the theme of his design.
The custom printed tissue paper is our favorite (of course, because it's our product!). But also because, with all of the other elements, he could just wrap his product with a sheet of plain white paper and call it a day. Instead, though, he knows that the story is in the details. And we love that a piece of tissue paper will help to show his customers how much he cares about his art.
Learn more about Joel and Cherrico Pottery.