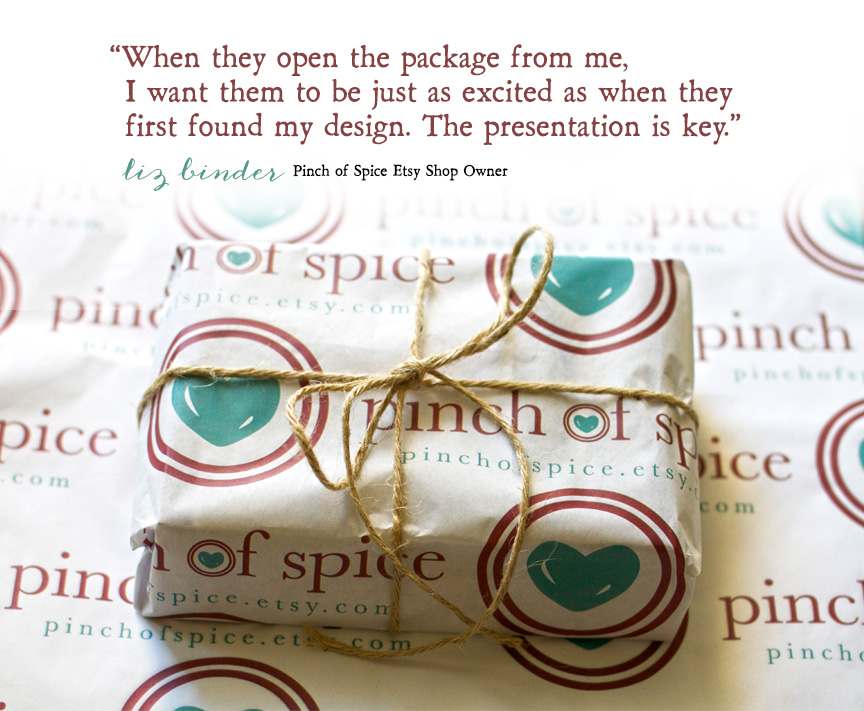 When you are looking for unique, personalized, or handmade gifts, you turn to Etsy. What we love most about Etsy is the very real people behind every shop. These talented crafters, artists, and designers create beautiful products. We love to help Etsy shop owners to retain their special, handmade feel by creating custom tissue paper for their packaging.
Since we love Etsy shop owners, we've decided to occasionally feature a few who have put our custom tissue paper to good use. Our first feature is Liz Binder, owner of Pinch of Spice. She designs custom save the dates, wedding invitations, and more. We sat down with Liz to discover what inspires her, success tips for Etsy sellers, and more.
Why are you passionate about your shop?
My shop is what allowed me to stay at home with my kids, so I put all of my energy and passion into making it as great as it can be. Since I sell invitation designs, all of my customers are always excited to work with me because the invitation is the first step to planning the bridal shower, birthday party, wedding, or another event that they are typically very excited to get started on. So for me it is a lot of fun hearing their reactions when they receive their first proof. I love it when someone orders their wedding invitations from me because there is something so fun about working with a couple as they begin to plan such a huge event in their lives. The brides-to-be are filled with excitement, and it always brings me back to the day 7 years ago that I got married.
What inspires you when you are designing something new?
It is so key for me to have unique designs—otherwise I would get lost in the Etsy shuffle. So I find myself walking through the mall and seeing a sign with a cute phrase on it or hearing a song on the radio and thinking, "That would be great on a save the date!"
Why is presentation in your packaging important?
My customers are paying for quality. They want a unique and beautiful design, and just as importantly they want a quality finished product. When they open the package from me, I want them to be just as excited as when they first found my design. The presentation is key.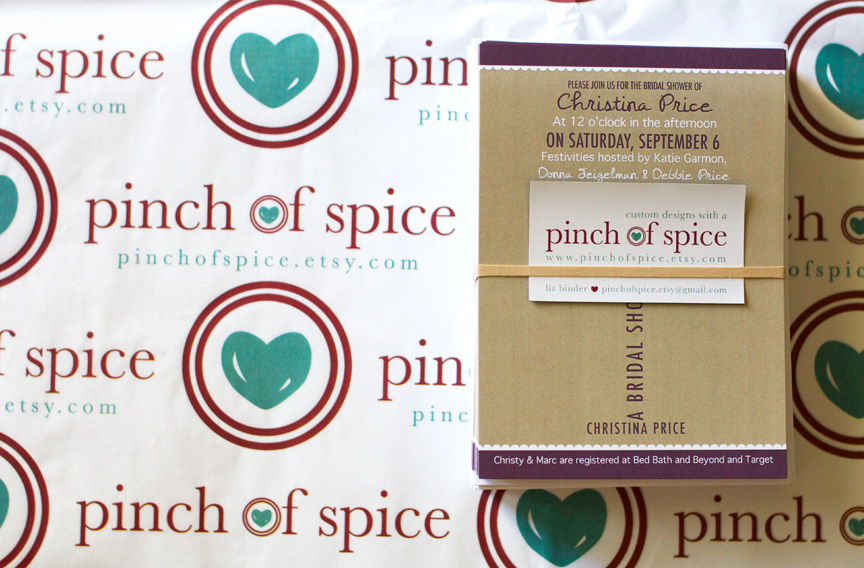 Do you have a success tip for other Etsy shop owners?
There are so may products on Etsy that it is easy to get lost in the shuffle. Take some time to browse and see what other products are similar to yours, and find a way to be unique and stand out from the crowd. When I first started, I was only doing Christmas card designs and was definitely lost amidst the other cards being offered until I realized that what I needed was something just a little different. So instead of having designs with the typical phrases like "Merry Christmas," I started to brainstorm some ideas that would be different. As soon as I did that, sales started rolling in. It was the same thing when I started offering save the dates—putting something out there that nobody else had is what led me to ultimate success. One other important aspect of Etsy is how customers search for your products. Research how to optimize your listings, and do everything you can including keywords and tags and optimize away!
What do you do for fun?
I am home with my two kids, so most of my fun time is with them! We go out whenever we can—zoo, play cafe's, library, stores—you name it, we do it! When I have a (much needed) break from them, I find a fun Friday night to be a trip to Target all by myself! My, how life changes after kids!
If you own an Etsy shop and you'd like to improve your packaging, order your custom tissue paper today!