Customer Spotlight: Personalized Products without the Hassle of DIY-ing at Willo Bixby
At Digiwrap, we are all about personalizing—after all, custom-printed tissue paper and gift bags are our jam! So we love the idea behind Willo Bixby, an Etsy shop where people can order personalized products without having to DIY.
Tiffany Bryant, the brains and creative force behind Willo Bixby, left us one of our favorite reviews to date! We love knowing that the packaging of her product gave her confidence as she moves forward with her awesome business plan:
"I'm not one to get emotional very easily (OK, OK you caught me...😆) but I was nearly brought to tears when I opened my packages! I'd already been blown away by the excellent customer service and the finished product put me over the top. I've been wanting to start a small business for some time and finally got the courage to take the leap. Digiwrap made the marketing ideas in my head real, and I couldn't be more satisfied with the outcome. My motto this year has been "Do MORE...fear LESS" and trying this out was certainly scary. TY TY TY for making it so easy and for making my business look like a million bucks. I will definitely be ordering again soon."
Thank you, Tiffany! Now without further ado, learn more about Willo Bixby, Tiffany, and support her in her work if you love custom and personalized products but aren't sure you have it in you to DIY!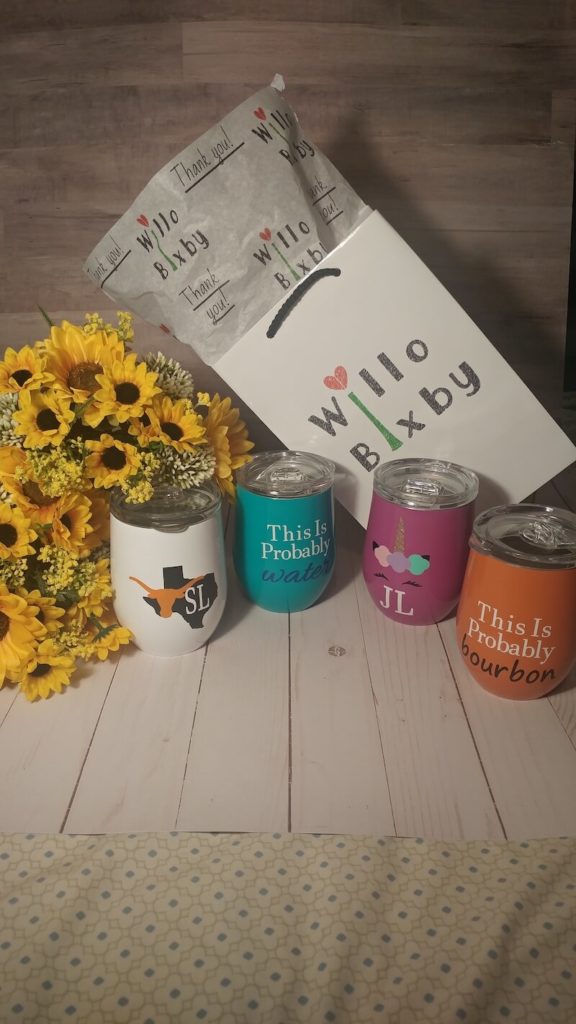 About Willo Bixby:
Creating customized and personalized products has never been easier and more affordable with the proliferation of in-home cutting and pressing machines; however, not everyone has the time or the eye for design. From T-shirts to backpacks and cups to keychains, Willo Bixby offers the unique, one-of-a-kind character you want from DIY-ing without the hassle of TRYing.    
Where did you get the idea, and how did you decide to get started?
I refer to myself as an "ideator"—someone who always seems to have a good idea partying with the lint and gum wrappers in their back pocket. I am also notorious for being a procrastinator—someone who never acts on said ideas and casts them aside with said lint out of fear because, like many other women, I too suffer from being P.I.S.S.E.D.: a Perfectionist and Imposter Syndrome Sufferer Every Day. I'm constantly asking myself, What if it's not good enough? What if no one likes it? What could I possibly have to offer that hasn't already been said or done? 
I knew I wanted to do something because I had hundreds of ideas in my journals, but I couldn't convince myself anything would be worthwhile. Sad but true.
After a milestone birthday last year (no, I will not tell you which one but thanks for asking 😄 ) and a seemingly unending parade of "I-could-have-done-that" encounters online, I was fed up with watching from the sidelines. Nevertheless, I was inspired to buy the cutting machine I'd been stalking for six months (and no lie, it took another three months to even open the box). Finally, I started making things in my spare time. Taking letters from my name and the "with love" concept I wanted to convey in my work, the company name, Willo Bixby, was born. It felt smart, unique, cool, and mature, just like me. Or like my great-great-great grandmother who survived the Antebellum south, according to my husband. Pretty sure she was super cool too so it works either way.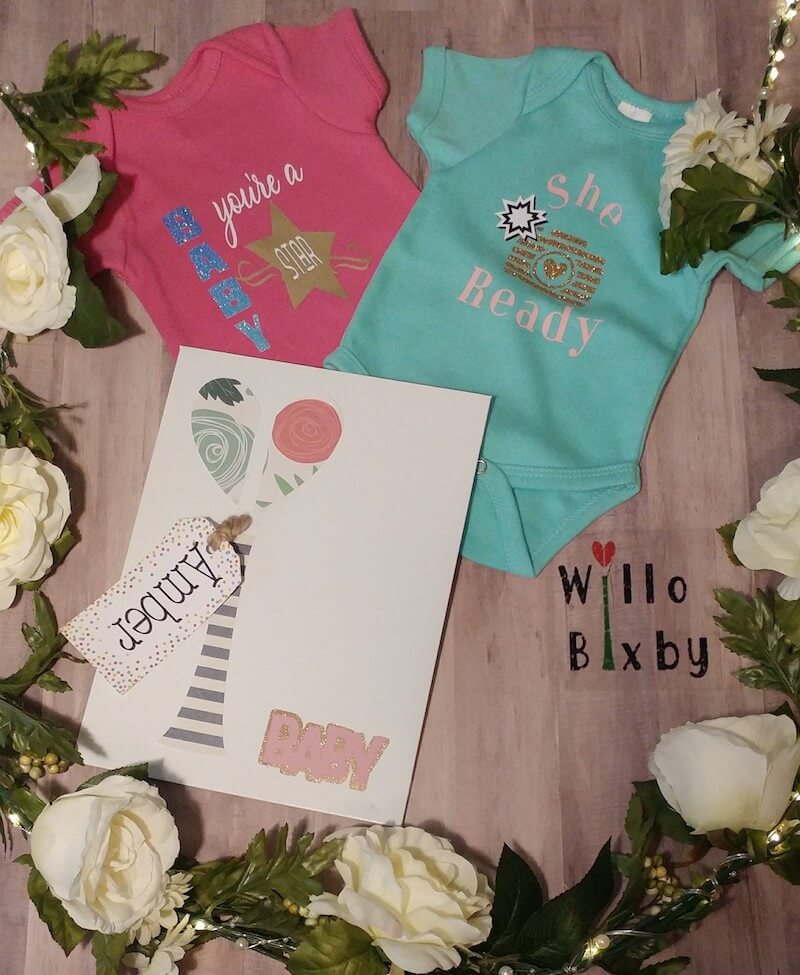 Why are you passionate about your product?
Everything I make is a personal reminder that I can do whatever I put my mind to because I'm the only person who matters standing in the way. I am not the  ______est (insert adjective here) person in the room, but I am still worthy of being there because there is enough space for us all—preferably in a corner with the rest of the socially awkward introverts. Thanks!
Everyone should have the opportunity to feel empowered, and Willo Bixby is the battery in my back giving me life in ways my professional career hasn't. My neck and head hurt from bumping into and staring up through the glass ceiling every day. (In case my boss is reading this, I love my job and the work is extremely fulfilling!)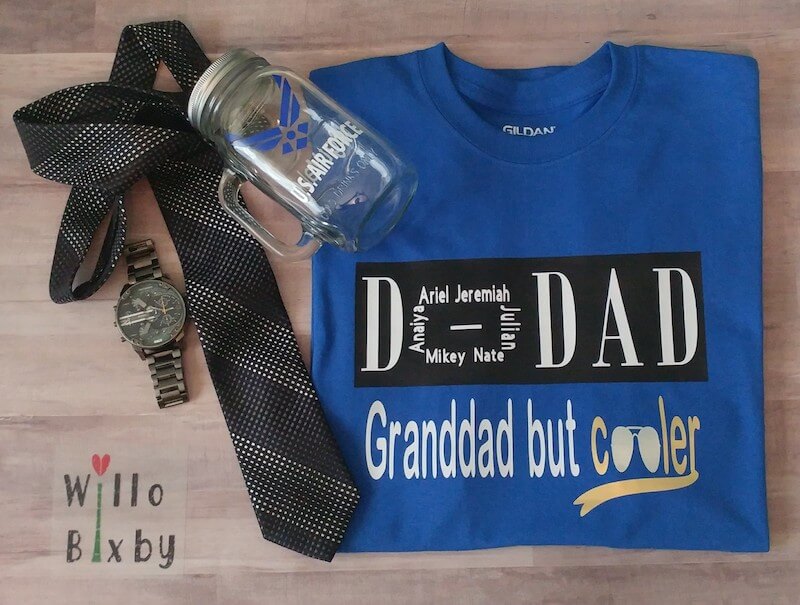 What inspires you when you are designing something new?
There isn't a nice way to put this, so I'll come right out and say it—my inspiration is pure selfishness!  I want to hear the "oohs and aahs" and "OMG that's soooo cute, I love it" from my customers so I learn as much as I can about them and the project before I start designing. I want to know, What's your favorite color? Is this a gift for you or someone else? What's the sentiment behind it? How should it make me...I mean...you feel? All this information influences the design choices and helps deliver a more memorable product and experience for the client. Nothing feels better than hearing "you did a good job." Like I said totally selfish, I know, but it feels super win-win for them and for me, so I don't stress myself too much about it.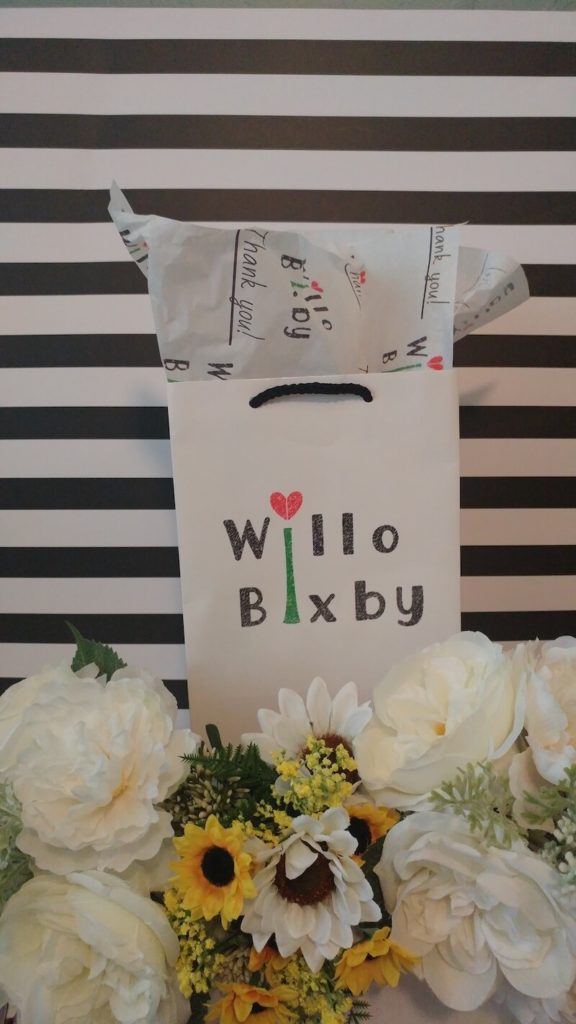 Why is presentation in your packaging important?
I don't even know where to start. There aren't enough fingers and toes on the planet to count how many times we've found ourselves buying something we don't need (or really even want for that matter—I'm looking at you, Target) because the packaging or store presentation subconsciously said "give me your wallet," and we were handing over all our cash and valuables without realizing we were being stuck up by pretty color combinations or fonts that reminded us of our first kiss or the last dance. Humans only need three basic things to survive: food, water, and shelter. But, to feel alive, these three things must make you feel better than basic, and any good marketing/sales person worth their salt knows presentation is the tool that bridges between surviving and living. Live, honey, liiiiiiiiiive!!!!
What do you do for fun?
The best compliment I can receive on any given day is, "Cute shoes; what...you're an accountant?!"  Making business and finance decisions all day may sound really fun, but even I need a break every now and again from being about that crazy CPA (certified public accountant) life. Willo Bixby is one place I'm currently channeling the creative, left-brained side of my life (because creative accounting in the workplace will typically land you in jail, and head-to-toe county orange is not the best color for my neutral undertones…). I am just a nerd in cool people's clothing, so of course I enjoy reading and watching documentaries on all things weird and informational (not mutually exclusive). I am a huge sports junkie (golf and hockey though...gross). I inexplicably love llamas and alpacas (fight me, bro).  I am just a regular haberdashery of fun and good tidings all around.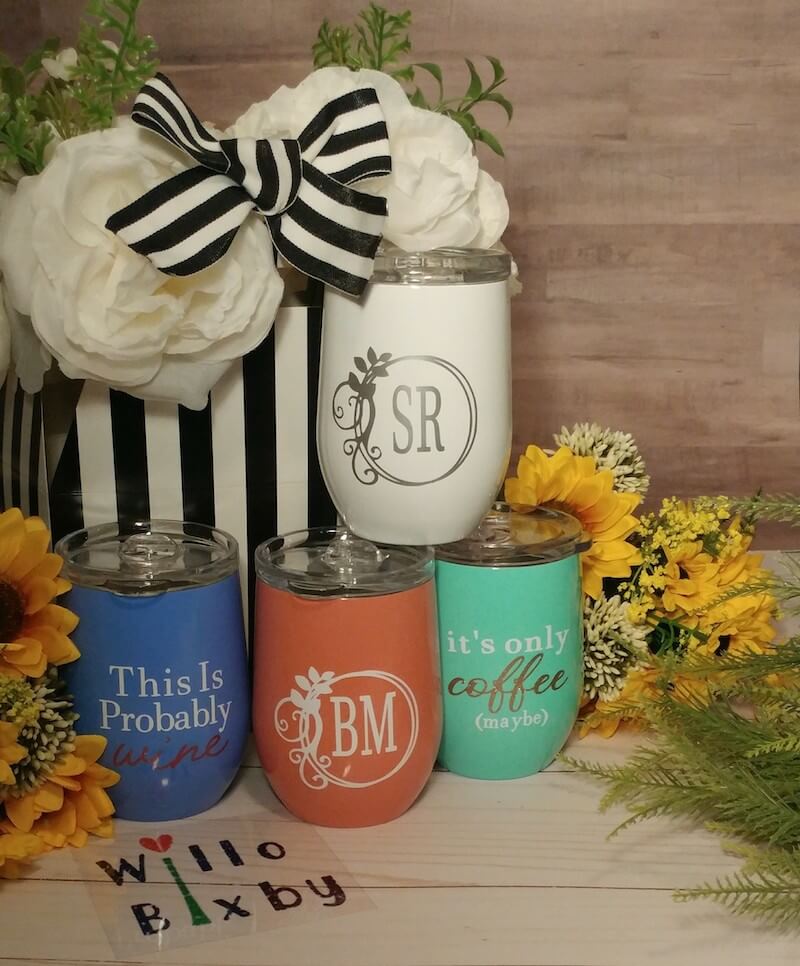 Learn more about and shop Willo Bixby—we'll add the link once the shop is open! Coming soon!