A Custom Bag for Your Swag: Giveaway Ideas for Your Charity or Business Event
When your business or nonprofit is planning a large group fundraiser, opening party, charity event, or other activity where hundreds of people are coming together for one purpose, a gift bag or take home package can be the best way to keep their event and your group top of mind when they leave. People love swag—especially when it's useful, creative, and interesting. A giveaway thanks them for their time, commemorates the day, and gives them a physical reminder of the event you spent so much time putting together.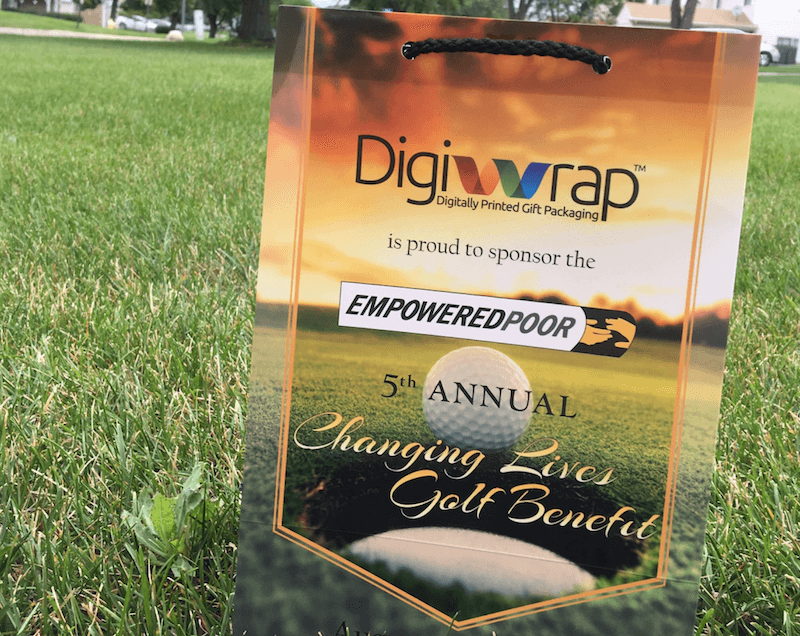 Ideas and tips for your corporate or nonprofit event giveaway:
Carry out the theme. You likely have spent time considering a color scheme, theme, and other marketing materials. Use a custom gift bag to wrap anything—candy, a knick knack or gadget with your logo on it—and your theme can be complete. You started it all with a theme, so finish it in the same way for a tidy, themed package.
Include an important picture. People love to see the "person" behind your event. A face gives your event a personal touch and tells the real, memorable story. Give your gift or take-home bag a face—include a picture of the person your event is celebrating, the client of the nonprofit, the testimonial. It's easy to include pictures on Digiwrap's custom gift bags.
Include sponsor logos on the back of the bag. Your event sponsors love to know their investment was worthwhile—and the more you promote them, the better chance they will reinvest next year. Putting their logos on the back of the gift bag allows your attendees to take their identity home with them in an extremely visible way.
Give contact information. Help people to continue the relationship with you and your event. Include your logo, your email or web address, and your social media handles. It doesn't have to be large or the main focus of the design—but it will help make it easy for people to know where to find you if they need to.
Create a re-giftable design. People love to reduce, reuse, recycle. And Digiwrap custom gift bags are made of top-notch, super durable material. (Just read our Zazzle reviews—our customers can't stop talking about the quality of the bag!) So if you create a design that is clearly themed and customized for your event, but that is plain enough to be re-usable, the gift bag becomes part of the gift. Then put any custom info or material on the tissue you include (we have custom printed tissue paper also), and people can re-use the bag and remember the event again!
Interested in using a customized gift bag for giveaways at your next corporate event, fundraiser, or charity event? Choose any quantity from 1-1000+, and a range of sizes. Your order can be ready in as little as a 7 days!